Frame Of Mind win National Dementia Care Innovation Award< back to full news listing
Bognor Regis Observer November 2012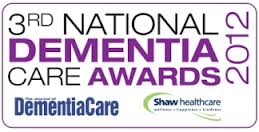 A BOGNOR Regis community interest company is celebrating after they scooped a national award. 
Frame of Mind CIC, based on the Arun Business Park, has been recognised for the service it provides for people with dementia. 
It has been awarded a National Dementia Care Award for the help, support and learning they offer.  They were declared the winner of the Outstanding Dementia Care Product/Innovation 2012 category. 
Support services director Ian Bates said: "We entered the award as we believed there was not any project like ours in the UK. We were extremely pleased to win. It was definitely a shock. 
"Winning this award, we hope, will help us to publicise and extend our service. We hope it will lead to us securing additional funding so we can develop our service further."
The judges picked Frame of Mind CIC because they said it offered people with dementia something new by focusing on work skills. They said they demonstrated a real commitment to empowering people with dementia and involving them as equals in the activities and running of the organisation. 
One of the judges in the service's category, Cecilia Yardley, said: "I was particularly impressed with Frame of Mind because the equality of people living with dementia is taken as read within the project and the working of the community interest company.
"Having now met more of those involved in the project, I can see what a tonic it is – how people are encouraged to have pride, purpose and self-confidence as they apply themselves to the framing and other activities. 
"Frame of Mind sets a new standard for the creative engagement of people with and without dementia as partners in living life to the full."
The company provides vocational training for adults with mental health issues and learning disabilities. Its trainees learn picture framing, photograph restoration and business skills.
As their confidence grows they become more active members of their community, moving onto volunteering, education and employment. The service for those with dementia helps eight people and it has been running for the last six months, once a week. 
Janice Gadd, whose father, Ron Davies uses the service, said: "Attending Frame of Mind has given my father back a purpose for living. 
"Not only does he benefit from the positive attitude and care of the staff and volunteers, but he has something concrete which he is proud to show to friends.
"We can't thank them enough."
Ron said. "I come here once a week and for me it is not enough; when I am here I feel like I am remembering things. I am an electrical engineer and coming here lets me remember the way I used to work."
The service has been funded by the West Sussex County Council Social Enterprise Fund.
Frame of Mind CIC is also on the look-out for new volunteers.
Mr Bates said: "You don't have to be an expert in picture framing, we will provide training, but it would be an advantage to have practical skills."