Frame Of Mind shortlisted for RBS SE100 Award< back to full news listing
RBS SE100 Social impact report, June 2010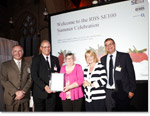 Frame Of Mind the Bognor Regis based Community Interest Company were in London last week after being shortlisted in the Royal Bank of Scotland Social Enterprise 100 (RBS SE100) Awards. The RBS SE100 Index has been gathering facts and figures about great social businesses across the UK over the last year, charting both growth and social impact.
Of the three categories awarded Frame Of Mind were one of the four companies shortlisted in the Trailblazing Newcomers Award and were also listed in Social Impact Leader Table containing the top 12% of Social Enterprises nationally for measuring social impact.
As a 'Social Enterprise' providing a positive impact on the local community, they had been nominated to enter the RBS SE100 Index. Attending the award ceremony in high spirits, after being shortlisted to win the award, they were hopeful of a positive outcome after a solid year of growth and success. Unfortunately, this year wasn't meant to be, but as Ian Bates Support Services Director suggests; "As a Bognor Regis based Community Interest Company who are focussed on helping socially excluded local people it was particularly exciting to have been shortlisted for a National Award such as the RBS SE100 Groundbreaking Trailblazers, and although we didn't win this time we'll be back next year to give it another shot."
Theresa Bates Operations Director also said: "To be recognised nationally for the work we do is fantastic. It was particularly satisfying to be placed on the Social Enterprise Impact Leader table and to think a social enterprise of our size is in the top 35 Social Enterprises nationally for Social Impact Measurement is amazing."
RBS's Ian Cowie said: 'RBS has been committed to the social enterprise market in the UK for over a decade, and we are thrilled to be driving this pioneering initiative. The RBS SE100 Index, which is the first of its kind, will prove to be a really valuable benchmark for the entire social enterprise sector.'
Minister for a Civil Society Nick Hurd said: 'The RBS SE100 is a hugely important tool for proving the success and potential of social enterprise. Already it shows phenomenal growth, which will boost confidence in the sector and open doors to private finance.'
You can see the extent of their achievement by clicking here going to www.frameofmind.uk.com to get the full story.